Print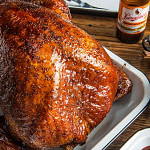 Barbequed Whole Turkey
---
Description
We are all familiar with turkey being associated with Autumn. Lets break that stereotype right now. Turkey is delicious during any season, and pairs so well with so many different side dishes. This bird is just as versatile as chicken, but utilized so much less often. Try this recipe along with the perfect accompaniment, Corn Pudding, found here. When everyone in your house is tired of the same old chicken recipe, change it up with grilling your turkey whole!
---
Scale
Ingredients
1

12-15lb turkey, completely thawed

3 tbsp

brown sugar

2 tbsp

smoked paprika

1 tbsp

Kosher salt

2 tsp

ground cumin

2 tsp

dried oregano

2 tsp

dried sage

2 tsp

dried mustard

1 teaspoon

fresh thyme
---
Instructions
Remove neck and giblets from the turkey. Pat dry thoroughly with paper towels.
Gently, using your fingers, separate the skin on the breast from the meat. Keep pushing the skin upward until you have a pocket across your entire turkey breast, being very careful not to tear the skin.
Combine the remaining ingredients in a bowl and mix together. Rub the spices all over the outside of the turkey, as well as under the skin. Cover with foil and refrigerate overnight.
When ready, preheat your grill to 375F, 190C. Place the marinated turkey on top of the grill and close the lid. Grill 2 1/2 hours undisturbed until a meat thermometer reaches 180F, 82C. Serve with your favorite sides.
---
Notes
Do not lift the grill lid while the turkey is cooking. The steam heat from the grill is what is cooking the top of the turkey, while the direct heat cooks the turkey from the bottom.