Print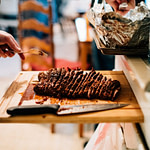 Texas Style Smoked Brisket
---
Author:

Stacy Chillwell

Prep Time:

30

Cook Time:

15 hours

Total Time:

15 hours 30 minutes

Yield:

18

1

x
Description
Texas, USA is known for its infamous barbecue. It is common in Texas for someone to have a home smoker right in their backyard, so this recipe is for the people with access to a meat smoker. You will not regret the choice of buying a personal meat smoker, I promise. This is a recipe perfect for a big outdoor party during the warmer months.
---
Scale
Ingredients
1

12-14 lb beef brisket, trimmed of excess fat

2 tbsp

coarse kosher salt

2 tbsp

coarsely ground black pepper

2 tbsp

garlic powder
---
Instructions
Keep your brisket in the fridge before working with it. Fat trimming will be much easier if the brisket is cold.
Trim all excess fat off the rounded top of the brisket. Flip over so the point end is underneath. Trim any silver skin and excess fat from the muscle. Any loose meat that comes off with the fat can be discarded as well. You want a smooth transition between either ends of the brisket. Square off your meat to a manageable size and set aside.
In a small mixing bowl, mix together all your spices. Spread spices over the entire brisket evenly, being sure to massage them into the meat. Ensure that you have a very even coating all around the brisket.
Preheat your smoker to 225F, or about 107C using indirect heat and hardwood smoke. Place the brisket on the smoker with the point-end facing the heat source. You want the thickest part of the brisket facing the hottest part of your smoker. Close the lid and let smoke about 8 hours until a meat thermometer reaches 165F, or 74C.
On a large work surface, spread out a big piece of butcher paper or aluminum foil. Using extreme caution, remove the meat from the smoker and place onto the butcher paper. Wrap the brisket with the paper until fully covered and creating a leak-proof seal. Flip the brisket so the paper is seam-side down.
Place wrapped brisket back into the smoker and close the lid, maintaining the heat at 225F. Smoke until the internal temperature reaches 202F, or 94C. This will take anywhere from 5-8 additional hours.
After your brisket registers 202F, remove from the smoker to a large cutting board. Rest the meat 1 hour before slicing to keep the juices in. Slice against the grain into 1/2-inch slices and serve.
---
Notes
This dish does need to be started the day before your BBQ party, so be sure to allow yourself enough time to complete this delicious dish.
Category:

Main

Cuisine:

American